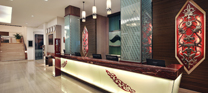 Lobby
Warm and welcoming from our friendly staff
Celebrate Chinese New Year 2561
Chinese New Year is the most important of the traditional Chinese holidays. It celebrated in areas with large populations of ethnic Chinese around the world. The Chinese New Year tradition is a great way to reconcile forgetting all grudges, and sincerely wish peace and happiness for everyone. It is also the tradition that every family thoroughly cleans the house to sweep away any ill-fortune in hopes to make way for good incoming luck. On the Eve of Chinese New Year, supper is a feast with families.
Pontianak is a multicultural city. Chinese population is one of the major ethnic groups in Pontianak. The second major city in West Kalimantan is Singkawang, located about 145 km north of Pontianak. Singkawang is also well-known as the city of A Thousand Temples as well as Indonesian Chinatowns. Chinese New Year is the most happening event in Pontianak and
Singkawang. In Singkawang, usually the city will be decorated with lanterns, and also there is dragon festival on Cap Goh Meh, 15th days after Chinese New Year. Many Chinese from others cities in Indonesia will be visiting Pontianak & Singkawang at that time.
In Singkawang, the Chinese New Year and the ritual ceremony Cap Go Meh present a spectacular example of Tatung (Loya Magical Attraction of Spiritual possession) parading around town accompanied by altars and traditional drum groups to destroy bad evil. At the same time, the other attractions can also be witnessed in Pontianak, it shows the city's pride in its cultural heritage.
Since Mercure Pontianak Grand Opening on September, they will celebrate Chinese New Year for the first time. There will have a fantastic Chinese New Year Decoration around the Hotel. Mercure Pontianak launches Rp 688.000,-/Room/Night/Nett and Cap Go Meh Room Promo 'Buy 2 Get 3' for Rp 1.680.000,-/Nett. Every Guest will get Ang Pao and Lucky Draw upon Check -In at Chinese New Year. For more information regarding Chinese New Year Promotion, Please contact +62 561 577888 or email to reservation@mercurepontianak.com.
<< Back to